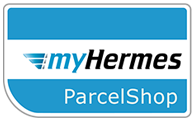 Free Click & Collect

When you shop online (Orders over £40)
to myHermes ParcelShops when you order online!
On the go? Why not pick up your parcel from a local ParcelShop at a time that suits you. Click & Collect with ParcelShop is a really easy and convenient way to receive your parcels from us - you can even return your parcels there too!
Sometimes things won't be suitable to be delivered this way (such as large items) and using the service is subject to status, but if it's available to you we'll let you know during checkout.
Find your nearest myHermes ParcelShop >
What is ParcelShop?
myHermes Parcelshops are located in convenience stores, like Spar or Londis, that have signed up to offer this service to our customers. There are over 5,000 participating stores located across the country. They are open from early in the morning until late at night (typically 7am to 10pm), 7 days a week.
Your parcel is delivered there and you will be notified when it arrives by a text message, then all you need to do is pop in and pick it up when you're out and about!
Why use ParcelShop?
It's convenient

No need to wait in for your delivery or inconvenience your neighbours, just pop in and pick it up when you're out and about

Extra Security

Perfect for if you're away on holiday as the ParcelShop can hold your parcels for up to 10 days. Great if you're ordering something that needs a little bit of extra TLC.
How do I get my items sent to a ParcelShop?
If the item you want to have delivered is suitable, you will be given the choice to "click and collect" at the checkout.

Pick the ParcelShop that is most convenient for you from the list.

Check you have entered your mobile number, check the address is correct and confirm your selection.

Complete your order. We'll let you know by text when your parcel has arrived. You have up to 10 days to go and pick it up, so there's no hurry.
Easy Returns
We hope you're always happy with the items you order from us, but if something's not quite right, you can find out more about our easy returns via courier or ParcelShop by watching this video: