 There are two things every woman should expect from her bra: it should give her the support she needs, and make her look (and feel) gorgeous. To achieve this it's crucial to get the perfect fit.

With our step-by-step guides and clever solutions to common problems, you can say goodbye to badly fitting bras forever!
Shop All Bras
How to put on your bra
Follow these four steps when trying on your bra to make sure it fits perfectly and comfortably.
1. Lean Forward
This will allow your breasts to fall naturally into the bra cups and gives the best support.
2. Lift Wires
As you straighten up, into the wires up into the crease of your bust before fastening the bra.
3. Lift In
This will give you a good idea of how comfortable the bra is and how well it fits.
4. Adjust Straps
Adjust your shoulder straps to ensure you get the right support.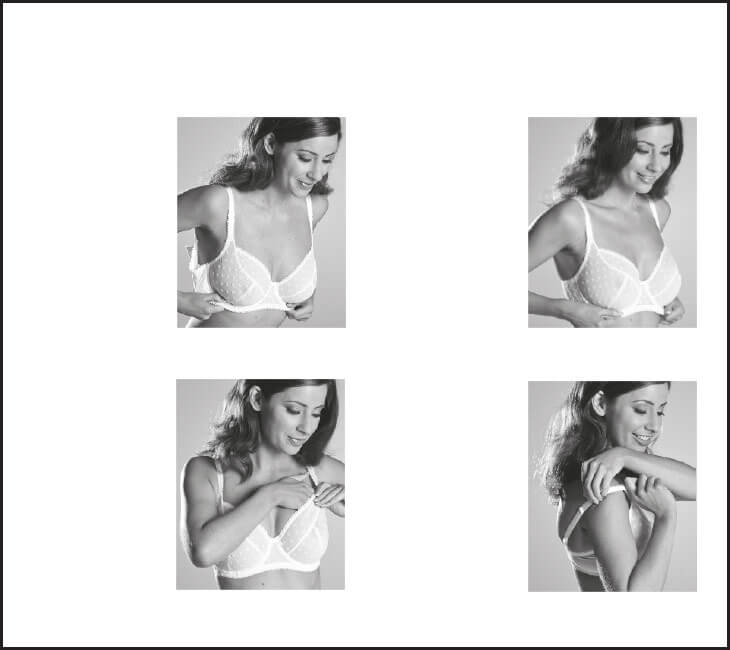 Perfect Fit
Are you wearing the right size? Try on your best fitting bra, stand in front of a large mirror and follow these steps to find out.
Start with the underband...
...now move onto the cups!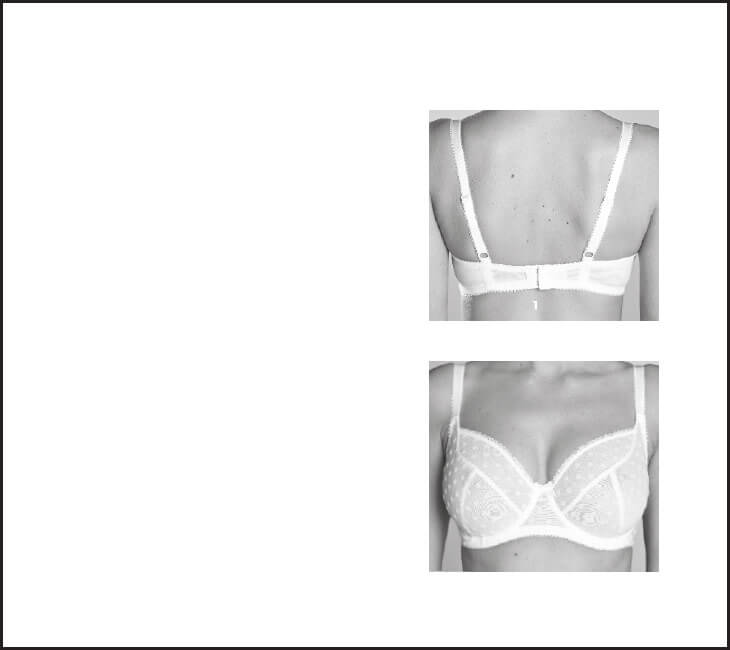 Common Fit Problems

Try a smaller cup size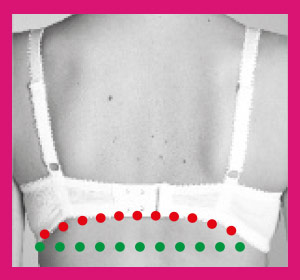 Your bra should fit perfectly without gaps. If there is any space around your bust in the cups, the cup is too big.

Try a smaller back size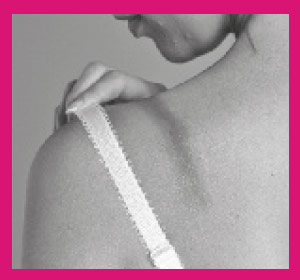 Your underband should provide most of the support, so if your straps are digging in it's a sign that the back size is too big.

Try a bigger cup size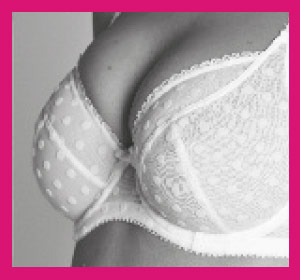 If your cup size is too small, your bust will bulge over the top and sides. The top of the cup should lie totally flat on your bust. If in doubt, try on a t-shirt over your bra, as this will make any bulging more obvious.

Try a bigger cup size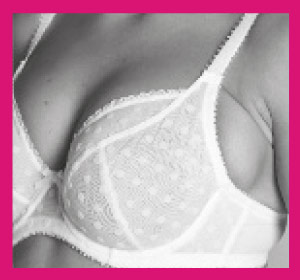 The bra wire should sit behind your breast, not on it. If your bra fits correctly the wire will encase the bust completely and not dig in uncomfortably.

Try a bigger cup size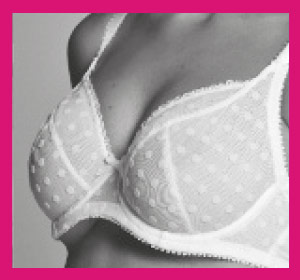 If the wires lift away from your body in the middle, or are sitting on top of your breast at all, then your cup size is too small.
Remember!
For every back size you go down, we recommend you go up a cup size and vice versa. For example, if you were wearing a 38C, but you want to try a 36, we'd suggest you go up a cup and try a 36D.
down in the back... up in the cup
up in the cup... Down in the back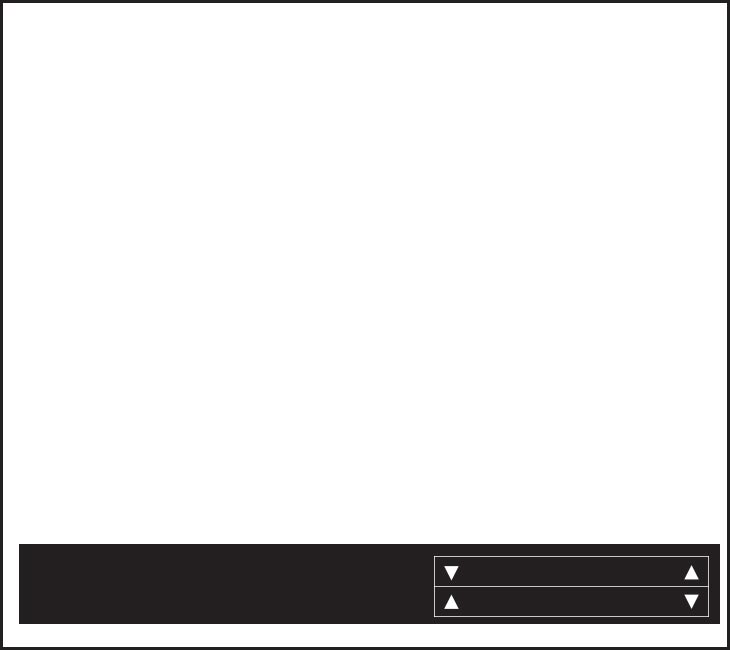 Ultimate Bra Fitting Videos
Firstly, find out how to measure yourself and check if your bra fits with Sarah's step-by-step fitting guide. Then, take the lesson one step further with Sarah's shape-focussed style videos. Simply choose the woman whose size is the closest match to your own and see which styles Sarah recommends.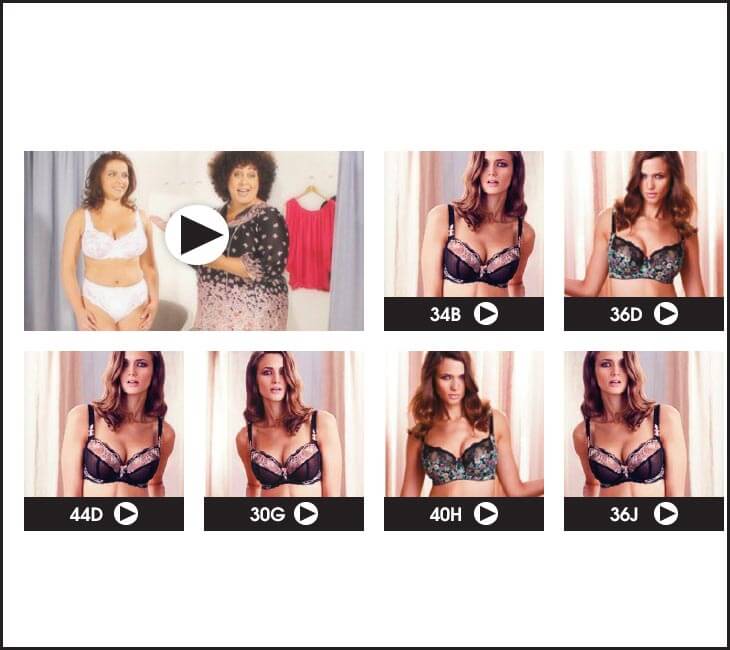 Full Cup Bra
A full cup bra covers the entire bust to give a great shape and support. A full cup bra is perfect for everyday wear and can offer comfort and support for larger cup sizes.
Full Cup Bras


Balcony Bra
Balcony bras give a lower coverage than full cup bras and can add shape and uplift to the bust line. This style enables you towear a lower cut neckline and traditionally has wider set straps giving a wide square neckline.
Shop Balcony Bras


Plunge Bra
Whether padded or unpadded, the low coverage of a plunge bra allows you to expose a sexy cleavage. The low centre-front on a plunge bra makes it perfect to wear with low cut tops and dresses.
Shop Plunge Bras


Minimiser Bra
A minimiser bra will redistribute the breast tissue giving the appearance of a reduced bust size yet will still be comfortable to wear. They are ideal to wear with fitted tops and button-up shirts if you find the fabrica little stretched or the buttons pull.
Shop Minimiser Bras


Multiway Bra
Depending on the bra, they can be adapted to be a halterneck, racer back or one-strap bra. A multiway bra is a useful addition to any woman's underwear drawer. If you've got the support you need, a multiway bra may also be worn strapless.
Shop Multiway Bras


T-Shirt Bra
T-Shirt bras are also known as smooth or seam-free bras. T-Shirt bras are often padded but they can be unpadded. They are specially designed with a seamless surface for a ridge-free appearance under close-fitting tops.
Shop T-shirt Bras


Non-Wired Bra
Non-wired bras provide support and comfort without the use of underwires. The shape this bra gives your bust is less defined than the shape an underwired bra gives. These bras are useful for lounging, sleeping and when pregnant.
Shop Non-Wired Bras


Sports Bra
Sports bras are designed to reduce breast movement during exercise. Wearing a sports bra also protects the ligaments that support the breast tissue. It is very important to wear the correct size to get the benefits and propper support a sports bra is designed to give.
Shop Sports Bras