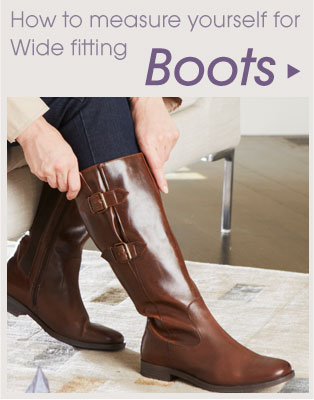 Trust your feet to the fitting experts
No doubt all shoe-lovers have squeezed into painful shoes for the sake of style at some time in their life. But your feet are so important! Aside from any immediate pinching pain, wearing ill-fitting footwear can cause bunions, calluses, corns and blisters, which can lead to pain and discomfort in later years. So it's essential you get the fit right. Fortunately, with us, your feet are in safe hands.
We specialise in shoes that are comfortable AND stylish
Yes it is possible! The secret to keeping feet comfy feet is finding your ideal width fitting. Yet, contrary to popular belief, wide fitting shoes can be just as stylish as standard fitting shoes. Just take a look at our wide fitting footwear range to find fashionable shoes for all occasions in a range of width fittings from standard D through to EEEEEE. If you're not sure of your width fitting, take a look at our measuring guide to find out.
Beautiful boots that love your legs
We've turned our footwear expertise to boots as well to give every woman an immaculate fit for her legs as well as her feet. If you've ever struggled to zip up boots around your calves you'll love our choice of calf fittings, ranging from Standard fit to Super Curvy calf width. So now you can enjoy a made to measure fit without the made to measure price tag!