Discover your shoe width fitting
It's so important that you wear the correct shoe size and width fitting, so follow these easy steps to find the right shoe width for your feet:
With a measuring tape measure the width of your foot in millimetres around the widest part

If one foot is wider than the other use the widest measurement

Find your shoe size in the left hand column of the chart to the right

Follow the row to the right until you find your foot width measurement (or the nearest to it), then follow the column down for your width fitting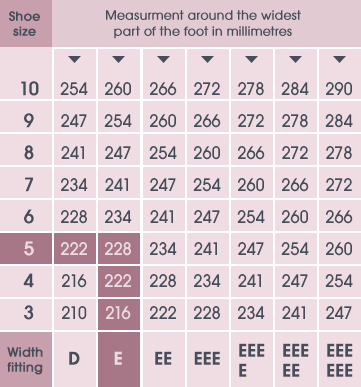 Your guide to women's wide fitting shoes
Marisota is all about fabulously designed footwear – but there's more to shoes than just how gorgeous they look. How they fit and feel on your feet is just as important.
The key to getting this right is to find your ideal shoe width fitting. Most ladies' shoes are sold in what's known as a 'standard' or 'D' fitting. If you find that most shoes feel narrow or they pinch and squeeze your feet it's a sure sign that you need wide fit shoes.
Wait - come back! This doesn't mean you're relegated to ugly shoes or suffering for style's sake. Luckily for you, Marisota has a stunning selection of ladies' wide fitting shoes that are chic and stylish.